"Are the days getting shorter?" you think as your schedule threatens to overwhelm you.
As we grow older, responsibilities increase; pressure increases; and just when you feel that you have weathered the storm, something else crops up.
How should you go back to being in charge of your own life?
Learn from the World
Just like you, there are billions of people in the world who feel pressured. Here's how you can turn this around and start taking control.
Ø Focus on 'Your' Care
After devoting a full business week to your job or studies, take advantage of your weekends to recharge and refresh. Catch up on the sleep you've lost, exercise you've let slide, relationships you've put on hold. Going a hundred miles an hour each week takes away time that should be spent reenergizing your mind and body.
Ø Make Plans for Yourself
Go on a camping trip. Give yourself time to relax in your own company. Cut yourself off from everyone at least once a month and try to discover if there is any you left in you.
You spend your whole life according to the rules dictated to you by social or cultural convention. Take charge and breakaway. Don't worry what others may think. You are your priority.
Ø Don't Pressure Yourself
In other words, learn how to say no. You don't owe anyone anything. Your life and its decisions should depend on what you want. Say no to expectations and favors that require too much extra effort if that effort will expend you in ways detrimental to your health or well-being. Instead, say yes to your own whims. Yes to enlisting your personal goals, yes to exploring your interests, yes to getting outside and absorbing the natural world. Say yes to things you really want to do.
Ø Be a Little Reckless
When we're near our breaking point, it works to embrace such moments rather than resist them. Often, moments of hardship show us what we've been missing out on, what life has been trying to teach us. Instead of running away from them, embrace the challenges. Be open to new lessons.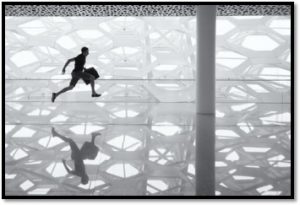 As a business speaker, I come across countless people, many of whom are seeking inspiration.
My book Always Forward! explores the significant difference you can make in your personal and business pursuits.
As a leadership and sales corporate events speaker, I help motivate your team, tapping into their hidden potential and providing them with the means to take charge of their lives!